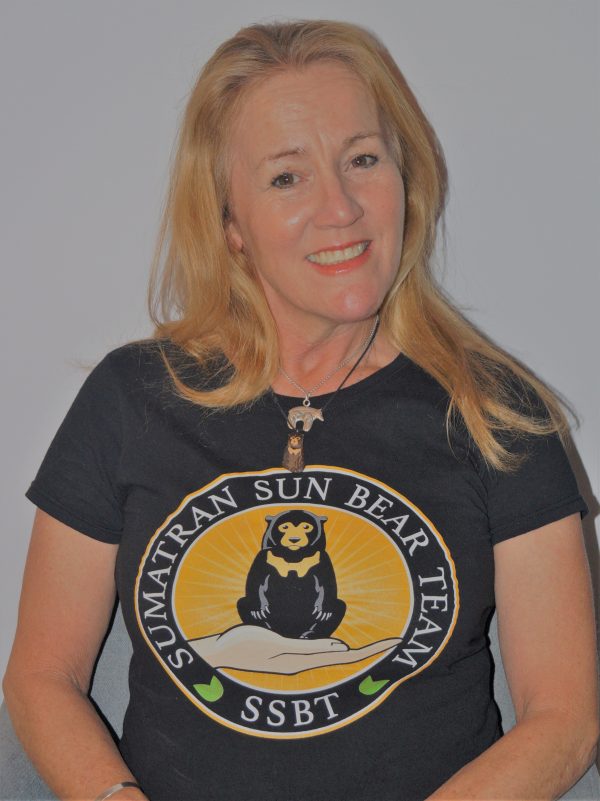 Lesley has worked in various animal fields including early working on a farm, an animal technician and Veterinary nursing. She began her Zoo Keeping career at Notre Dame, a private Zoo in Mulgoa, N.S.W. Wanting to combine Veterinary Nursing with Zoo Keeping, she started at Taronga at the Veterinary and Quarantine Centre in 1989. After working with varied taxa in several departments she is currently a senior Carnivore keeper with a strong focus on Sun Bears and has worked with Sun Bears for over 20 years. Lesley has visited and/or volunteered at many conservation projects or centres in Alaska, South Africa, Free the Bears in Cambodia, Vietnam and Laos, The Bornean Sun Bear Conservation Centre and others throughout Southeast Asia. She has been in contact with a wide and varied selection of people involved in conservation programmes and has been fund raising for many years to support rescued bears in S-E Asia. Lesley is passionate about Sun Bears and after visiting Sumatra for the first time in 2013, discovered that there needs to be a safe centre for displaced Sun Bears there. She is the Founder of the SSBT and since 2017 has been getting a great team of like-minded people in Australia, Indonesia and the UK who all want to help Sun Bears in Sumatra. She has a sound understanding of the difficulties that Sun Bears face in the wild throughout Southeast Asia and is working towards building a great Conservation and Rescue centre with the SSBT.
Suzanne has always had a love of animals and has volunteered and worked for a variety of charities and animal organisations.  After completing a science degree Suzanne spent time in Cameroon with the Cameroon Wildlife Aid Fund, now called Ape Action Africa, seeing first-hand the scale of the problems facing wild chimpanzees and Gorillas. This led to work at Chester Zoo, U.K., firstly as a zookeeper on the carnivore section followed by a move into the Education department as a teacher.
Since living in Australia Suzanne has worked for the AVA in Qld on the PetPep education program and as the Education Manager for RSPCA NSW. When Suzanne spent a week volunteering at the Free the Bears sanctuary in Cambodia, she was driven to take a more active role in raising awareness and funds for Bears. She has also been a volunteer at Taronga Zoo's Wildlife Hospital.
Jon has worked in the private sector, public service, research, and not-for-profits for over 30 years. His early passion for the environment and animals resulted in a degree in Psychology and Animal Behavior from the University of California at Davis in the United States, where he trained as a primatologist.
Jon has over 28 years of experience in animal program and facility management of species within zoological settings across the US, Australia and Asia. Jon's predominant focus has been across carnivore, primate and bird taxa. Jon also has expertise in designing and aligning zoological exhibits with visitor experience and educational and conservation outcomes.
From work and travels throughout Southeast Asia, Jon is excited to take steps to change the circumstances and help Sun Bears in areas where there is no active support.