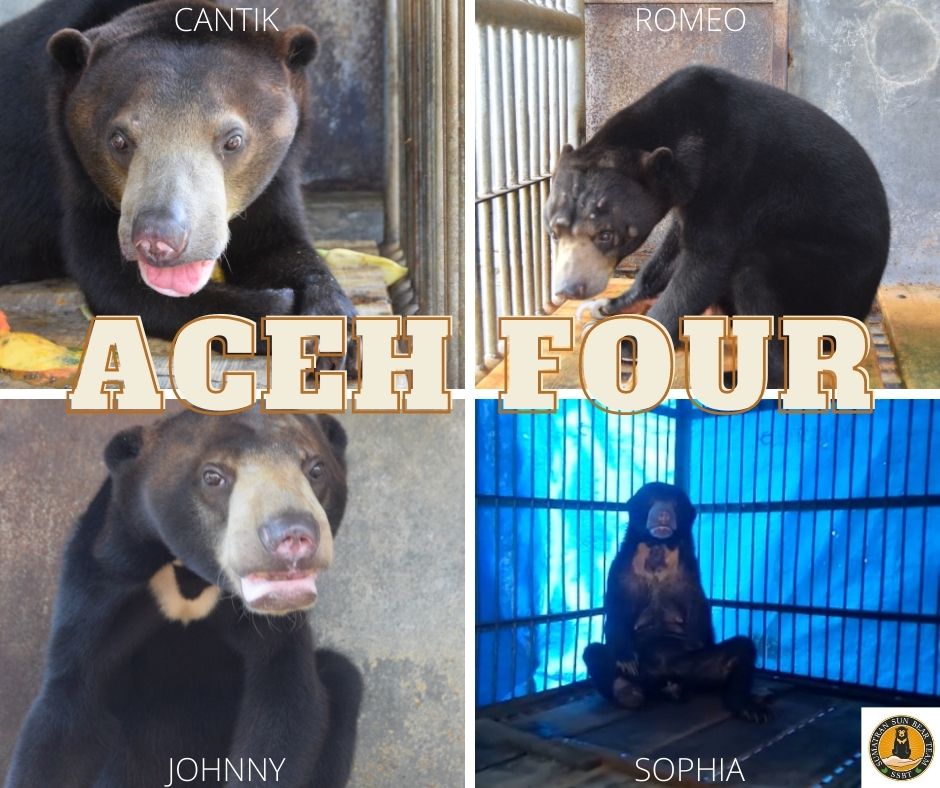 We have started our plans for building and fundraising for our second enclosure. Sumatran Sun Bears need all our help. Longtime supporters of Sumatran Sun Bear Team (SSBT) know of our visits to Banda Aceh, North Sumatra.
For any newcomers, meet the Aceh four. Banda Aceh BKSDA (Indonesian Forestry Department) have signed an agreement with our partners; Orangutan Information Centre (OIC) to transfer these bears into the care of SSBT. We need to start work on a second enclosure to be able to house these four bears and future bears in need.
In 2018 we first met Cantik in government care. She is an adult female caught in a snare in 2017 and rescued after almost chewing her own paw off, requiring a complete amputation. Also in 2018, Romeo, a young male cub was rescued from the illegal wildlife trade.
In 2019 a male bear, christened Johnny, was brought in after a snaring incident. He had to have his right hind leg also surgically amputated in situ. Finally in 2020 Sophia, a female bear, arrived. She was severely traumatized and is very defensive when approached. She is missing a front paw from a previous snare and escape, then she was discovered in a snare, trapping a hind leg that also needed surgical amputation. Poor Sophia also had gun-shot pellets throughout her small body. She was lactating when she was rescued, which means she was cub rearing at the time. Sadly, we do not
know what became of her cub. It's presumed that the cub was stolen from her and was illegally poached.
The Aceh Four are currently being held in cages at the BKSDA office. Any animal kept in less than ideal conditions with little enrichment or stimulation begins to display stereotypic behaviors. We desperately want to provide them with more species appropriate facilities complete with forest
enclosure, dens, hammocks and room to roam. We plan to have eight dens along with two spacious outdoor areas and a smaller sub-enclosure in between. This will give us extra flexibility to manage bears based on sex, ability and temperaments.
Our hope is that since Cantik was rescued as a fully grown adult, there is potential that she can one day be released back to the forest. She already possesses the key skills to survive in the wild. This would be after a rehabilitation process to assess the suitability of her strength and abilities. Johnny is also a possible release candidate but wild males are extremely territorial which can lead to a fight to the death. Careful consideration will go into the viability of this option.
For bears we certainly cannot release, like Sophia and Romeo, we want to provide a forever home that offers security, opportunity and as wild a life as we can give them. It is the least they deserve.
We are fundraising now. Please help the Aceh four get the lives they deserve. Donate now to save sun bears. Terimah kasih.